The "21st century learning" is generally used to refer to a certain core competencies such as collaboration, digital literacy, critical thinking, and problem-solving that teachers  need to teach and to help students thrive in today's world.
BRIEF INTRODUCTION
CIDS is a platform for various instructional planning including e-learning for students. While the Integral ASIE  Instructional Design Model has a dual function – (i) as an Instructional Planning Tool  (ii) as a 21st Century Instructional Design Model.
AIM
The main aim of the development of the Collaborative Instructional Design System (CIDS) is to provide a platform for teachers to perform their instructional planning and implement appropriate learning strategies in a virtual environment.
A research process on the usability has been conducted and improvements have been made occasionally to enhance its effectiveness.  Verification from local and foreign educational figures as well as from the Center for Curriculum Redesign, US has been made.
THE 21ST CENTURY LEARNING FRAMEWORK- CIDS-4DEdu
The Four-Dimensional Education, (Fadel, C. Trilling, B. Bialik, M., 2015) http://curriculumredesign.org/our-work/four-dimensional-21st-century-education-learning-competencies-future-2030/ is the 21st century frameworks  that has been adapted and  integrated in the development CIDS for teachers to design their instructions.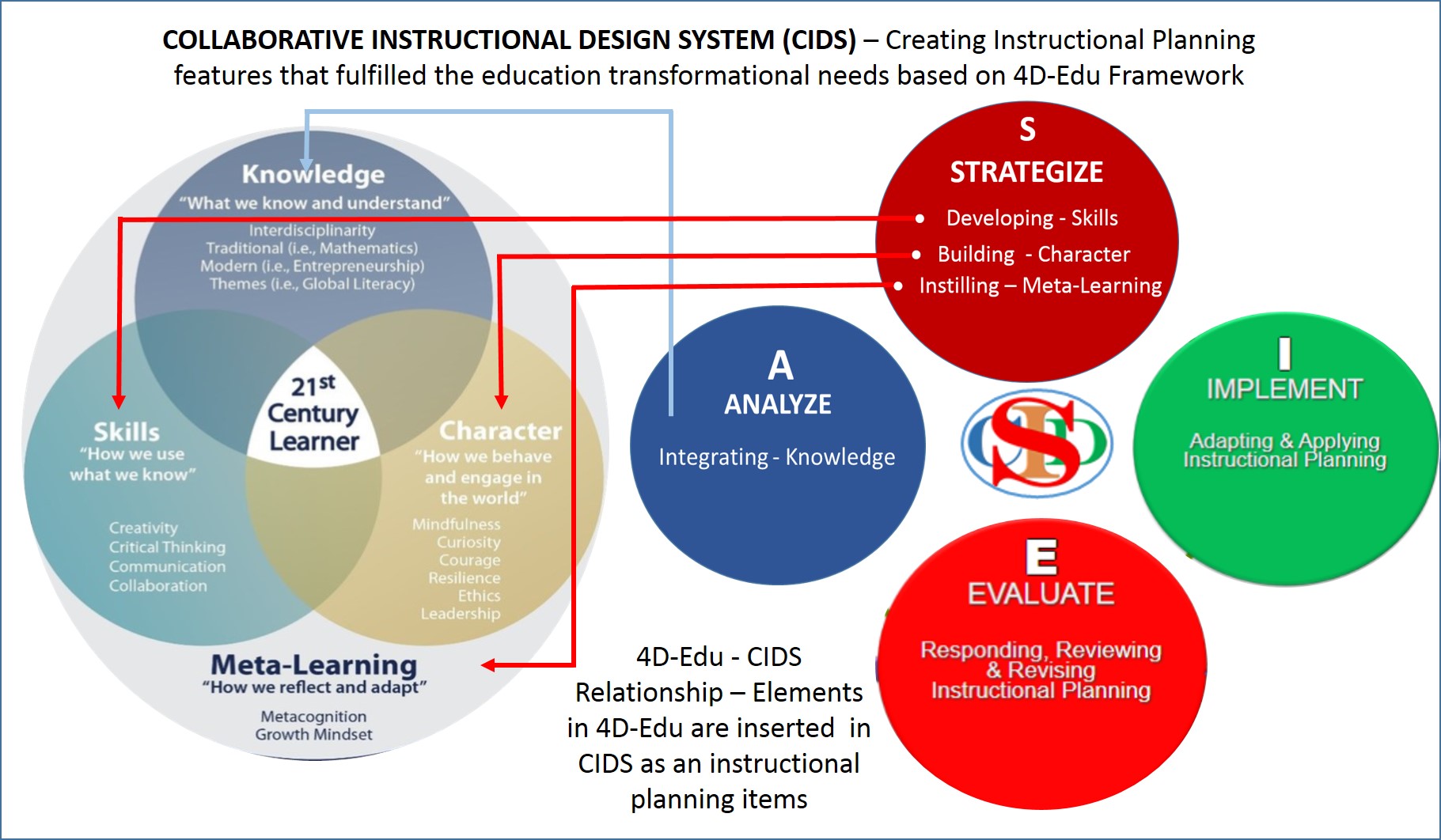 The Four Dimensional Learning encompasses the following dimensions and competency:
Knowledge

Themes – Essential Content: Disciplines, Branches, Subjects, Topics Core Concepts (including processes)
Skills

Creativity
Critical Thinking
Communication
Collaboration

Character

Mindfulness
Curiosity
Courage
Resilience
Ethics
Leadership

Meta-Learning

Metacognition
Growth Mindset
How do teachers design their instruction—unleash the learners' potentials and provide opportunities in developing and generating their minds?
The Strategical and systematic learner-centered approaches are required in enhancing and sustaining the quality of education in the 21st century learning through an innovative and collaborative instructional design model – The Integral ASIE Instructional Design Model.