The Integral ASIE Instructional Design Model is an innovative 21st Century teachers' designing tool that responds to the challenges and perhaps provides a solution in establishing a dynamic design of instruction.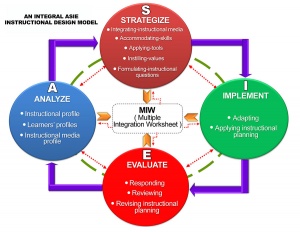 ASIE refers to Analyze, Strategize, Implement, and Evaluate. It is a transformation of ID model which is required in redesigning, reconstructing and reengineering academic directions in visualizing the current education landscape towards preparing learners to the Fourth Industrial Revolution – IR4.0while facing the challenges of the newly emerging smart Society 5.0.
This "learner-centered approach" interactive online ID model in designing instruction, engage learners exploring and unleashing their potentials in generating and creating ideas through Higher Order Thinking Skills (HOTS) activities.