VIRTUAL LEARNING – E-FORUM – User Manual
VIRTUAL LEARNING
Introduction
What is Virtual Learning?
Virtual learning (VL) is a learning experience that is enhanced through utilizing computers and/or the internet both outside and inside the facilities of the educational organization.
It is also known as e-learning, digital learning, hybrid learning, home learning, or other related terms.
The instruction most commonly takes place in an online environment.
The teaching activities are carried out online whereby the teacher and learners are physically separated (in terms of place, time, or both).
Distance learning is conducted in a virtual learning environment with electronic study content designed for self-paced (asynchronous) or lives web-conferencing (synchronous) online teaching and tutoring.
(Ref: https://www.vedamo.com/knowledge/what-is-virtual-learning/)
What devices and tools to be used?
Use any device from a smartphone (simple application such as WhatsApp, video calls, etc.) to laptops and tabs.
Use innovative tools and strategies (using education applications such as Google Classroom, Google Meet, Zoom, Apple learning Centre, Edmodo, etc.) that can be applied in a smartphone, laptop, and other devices.
CIDS: PLC – Virtual Learning (PLC-VL)

 PLC-VL integrates/links all the above tools and applications.
 PLC-VL provides 3 alternatives strategies from simple to more challenging features depending on users' capabilities and their knowledge in ICT.
Strategy 1: Professional Learning Community e-Forum (a simple interactive virtual learning)
Strategy 2: Digital Flipped Learning (comprehensive virtual learning platform based on Moodle application) – Refer to Digital Flipped Learning: User manual
Strategy 3: Interactive Video Conferencing (Webinar using a wide selection of communication tools) integrated into both strategies as a means of a virtual meeting.
PLC-VL allows students-lecturer/teacher interaction in the invitational virtual learning session.
PLC-VL capable of integrating links of the virtual learning activities to the lesson plan (administrators will be able to access resources of the PLC-VL activities).
Basic knowledge of ICT is required in implementing visual learning in school.
Professional Learning Community e-Forum
(Participation in an interactive e-forum Professional Learning Community via laptop or smartphone)
Professional Learning Community e-Forum (synchronous or asynchronous) – teacher-student interaction.
(Synchronous communication means that two or more people exchange information in real-time. Asynchronous communication refers to the exchange of data between two or more parties without the requirement for all the recipients to respond immediately)
Features
It is simple & practical features
User may use a laptop or smartphone as a medium
It is an interactive virtual forum platform
Similar to the Facebook concept – already known to everybody even children
Able to insert text (for instructions), video clips from YouTube, audio, or images as a stimulus.
Links to Google Classroom to access resources created and stored in the Google drive or the one drive (notes, assignments, etc.) and google search for accessing other external resources.
It will enhance the lesson conducted and inspired learners
PROCEDURES:
A. Create private interaction room/site
Create your own private room/site – to enable home-based virtual learning.
B. Preparation of teaching materials (modules, links)
From application – document, slide, etc. from the various application (Google or Microsoft learning packages etc.), and external storage (exp. Google Drive, One Drive etc.)
You may also link to YouTube, Google Classroom, Google Search engine, etc., or any website URL.
C. Student Registration/Enrolment
Register your student individually or in the group (bulk registration) – recommended
Students may register by themselves.
Enrol your student in the room/site.
PROCEDURES
Procedure 1: Login to Virtual Learning (Homepage) – E-Forum
Login to CIDS – Login to CIDS – Login as usual to CIDS main page using the same CIDS ID
Press PLC – Virtual Learning at the main menu
Press Virtual Learning (Homepage) – E-Forum
Press Private Communities – to create private interaction room/site
The PLC Homepage will appear as below: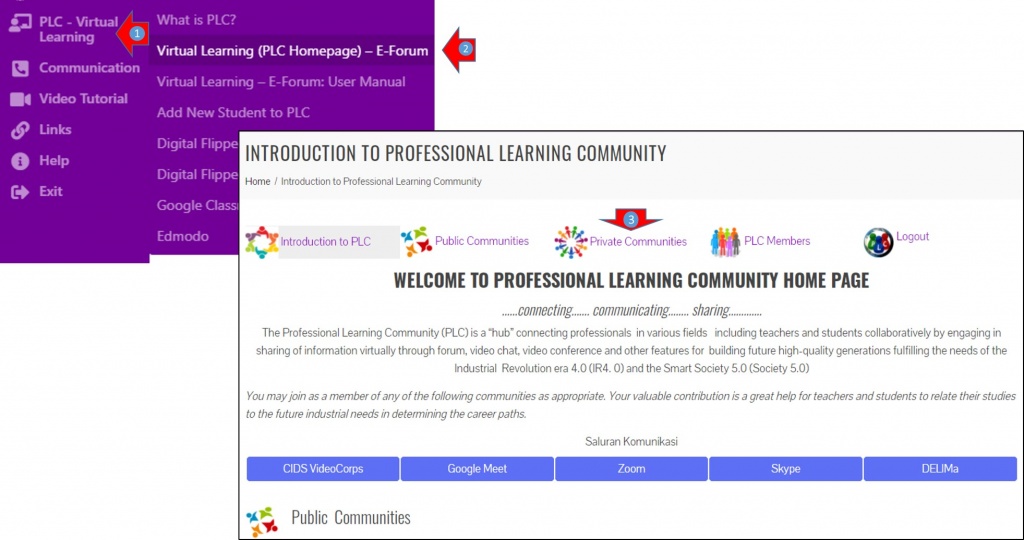 Procedure 2: Update your profile (recommended for the first time user)
Press My Profile
Fill in the required information & press Save Changes at the bottom of the page.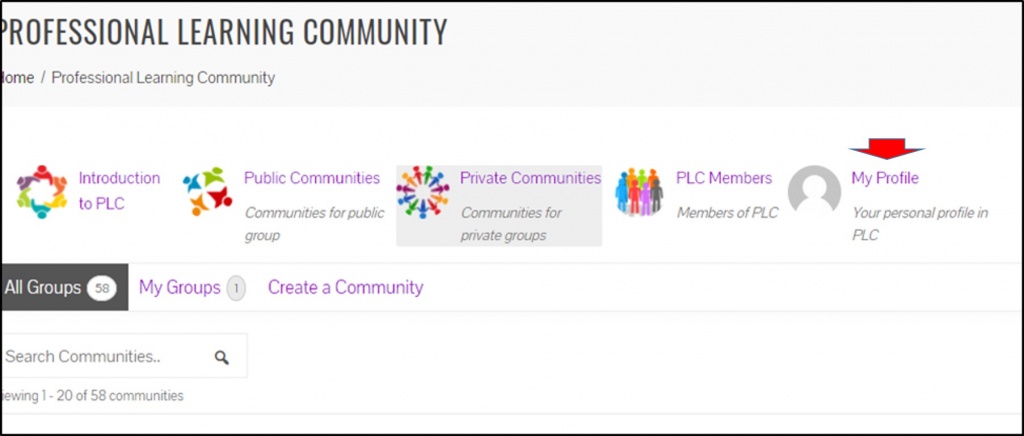 Press Change Profile Photo – to insert your photo
You may Select File to Upload Photo from your local drive
Or press Take Photo to take a snapshot from your device.
Press Capture and Save (for snapshot)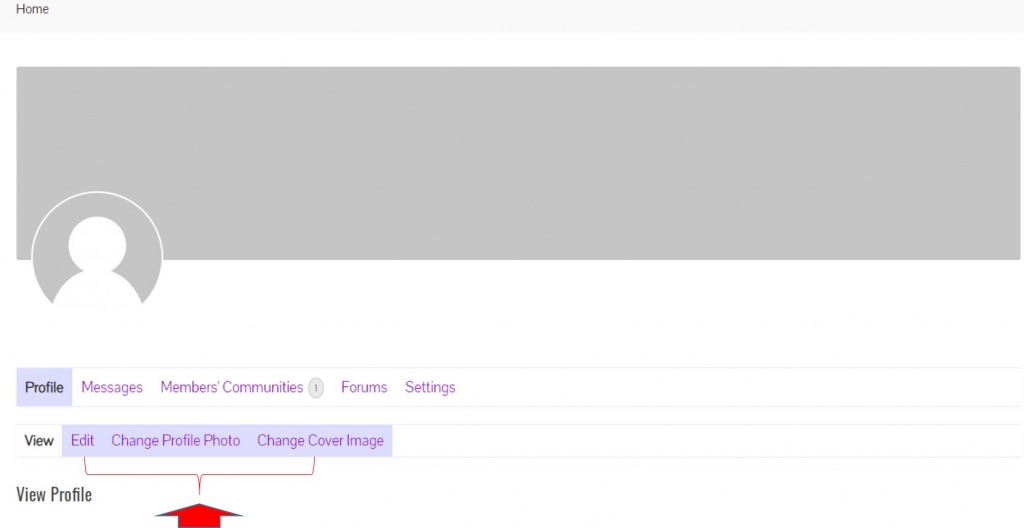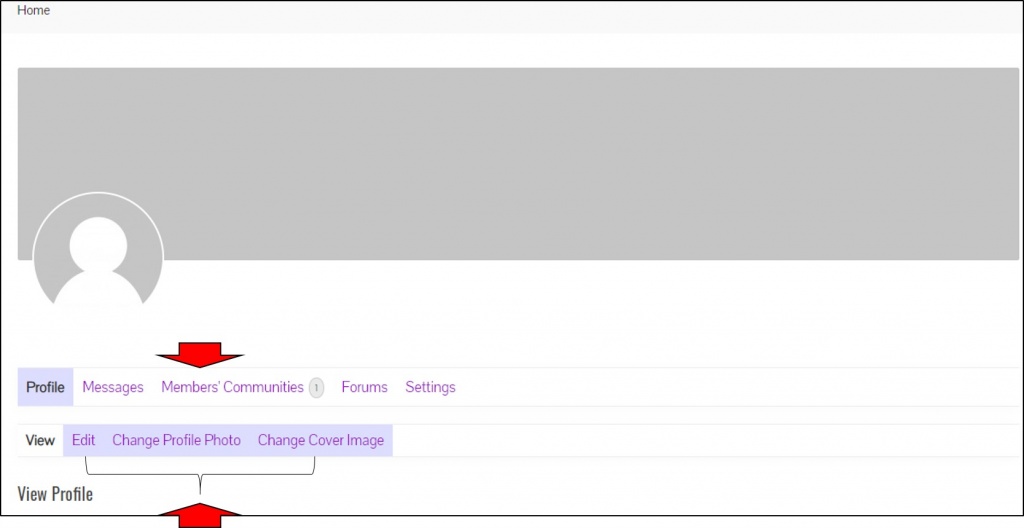 CREATE A COMMUNITY
It is recommended that the community group is created under the teacher's name, not by subject or class.
It will avoid too many communities being created.
However, teachers are free to determine their ways of creating their community
Students will log into the e-Forum once the learning activities have been prepared by the teachers
Notifications can be made through schedules delivered at the beginning of the interaction, or through the teachers' messages
It can also be notified via a group of what apps or by other methods
Procedures
Press Create a Community
Fill in the Details of the Community to be created
Press Create Community and Continue to Photos (please follow the instructions)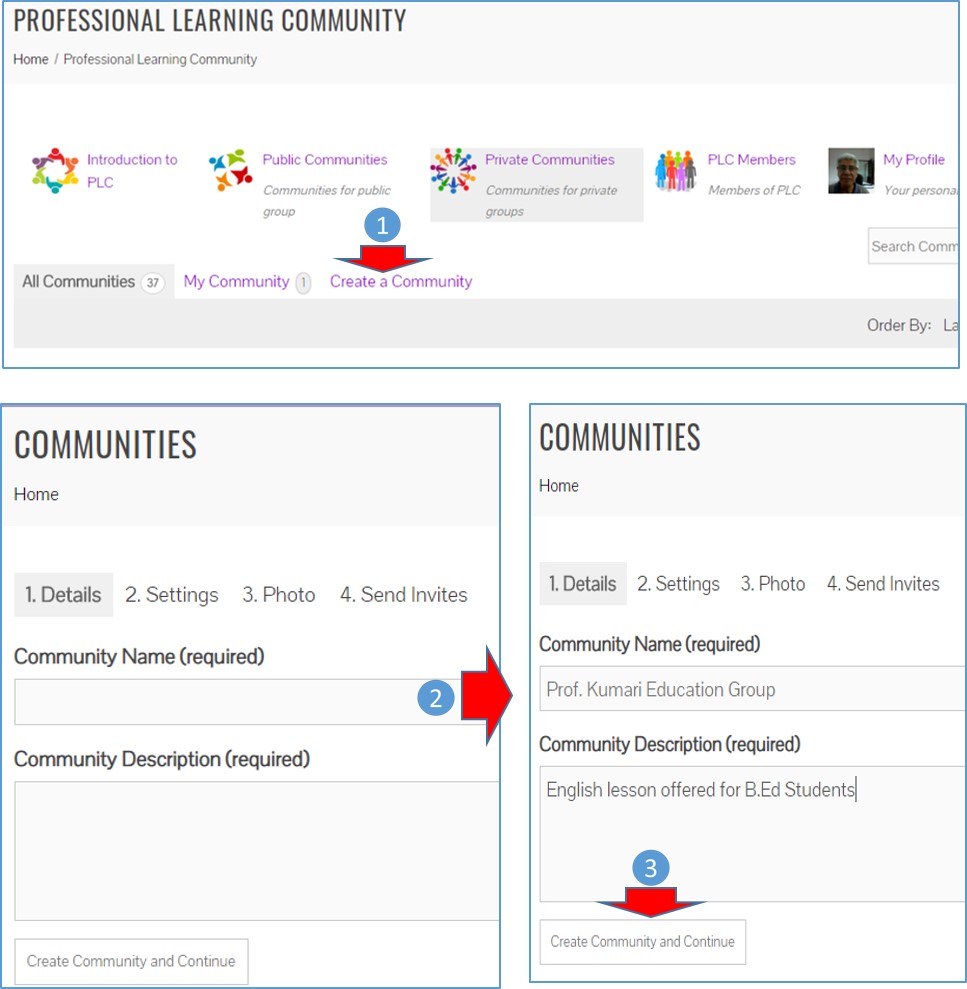 Press Settings (keep the default setting)
Press Next Step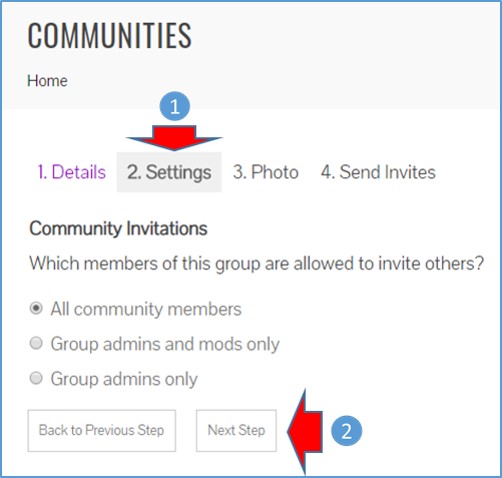 Press Select your File
Search & select the logo file from your folder (create a logo for your group)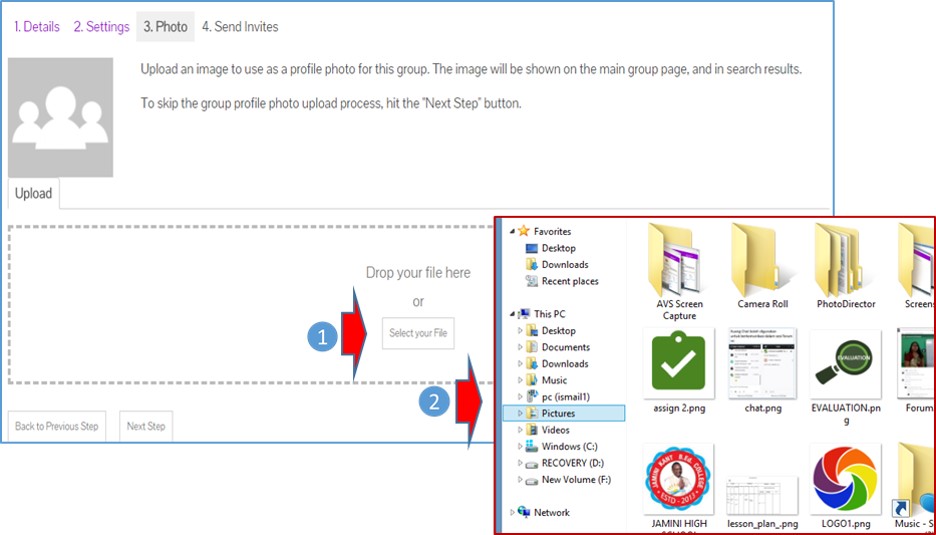 Resize (crop) the photo
Press Crop Image to save the image
Your logo will appear on the screen. You can delete or replace the photo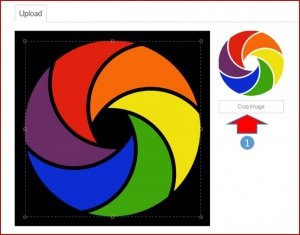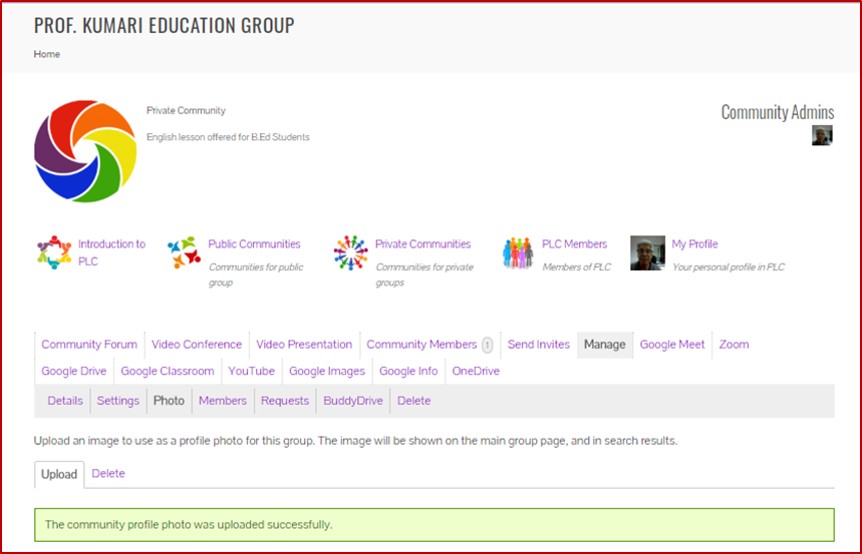 CREATE A LESSON
You can insert various materials in this e-forum (materials from Google Classroom – Google Doc, slides, etc.), video clips from YouTube, images, audio recordings from sound recorders, video recording from a smartphone or other devices, materials from Goggle Drive storage, One Drive, etc. depending on your skills and creativity. Learning will be interesting if the lecturer/teacher is creative enough to provide his materials to his students instead of just copying links from materials created by other teachers.
You can use laptops or smartphones for this e-Forum Digital Learning.
Please take note that there are slight differences in application characteristics (application features) between laptops and smartphones (please explore).
IMPORTANT
It is better to prepare your CIDS lesson plans, materials (documents/video, identify links, etc.) before preparing your lesson in E-Forum. E-Forum is a tool/platform that integrates all learning materials.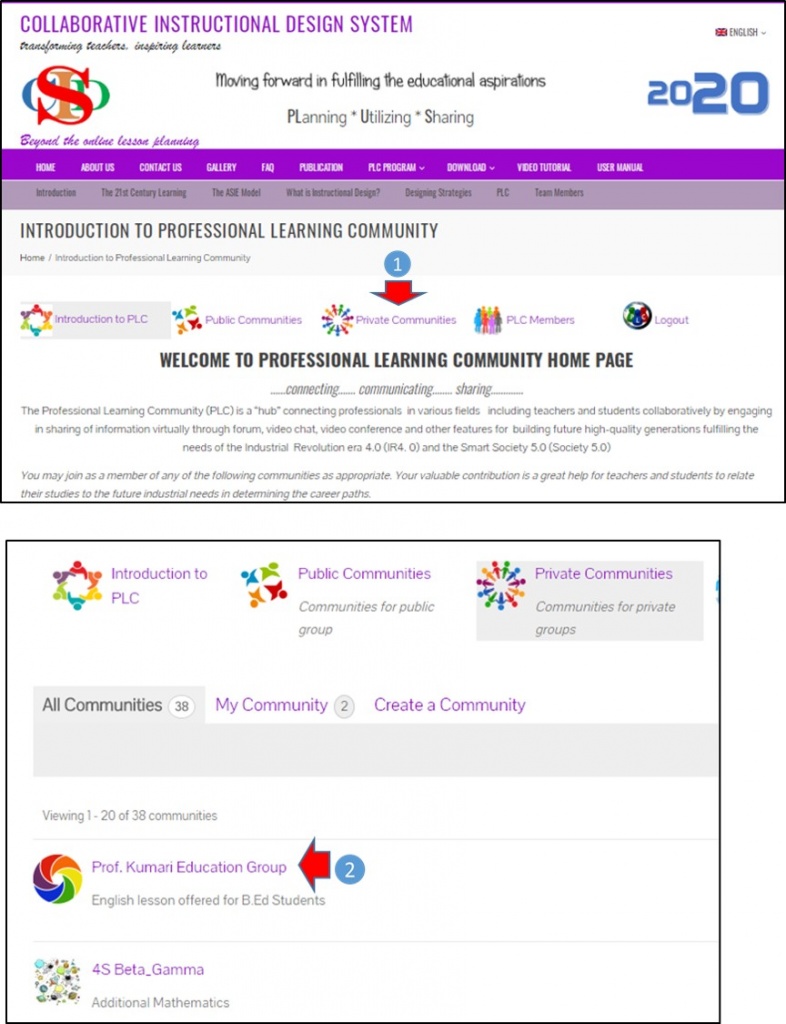 Features of e-Forum
There are submenus for various functions/links
To create an activity in the lesson (insert instruction & links)
The following items are recommended to be included in the content of the forum:
Enter a Subject, Topic, Discussion topic, etc.
Write in short – instructions/questions (what students need to do)
Write a short introduction of the content and perhaps a few important points
Insert link materials  (One link per delivery) for further readings

Examples: link from Google Drive, One Drive, Google Classroom, YouTube, Websites, etc.
The file must be shareable for all.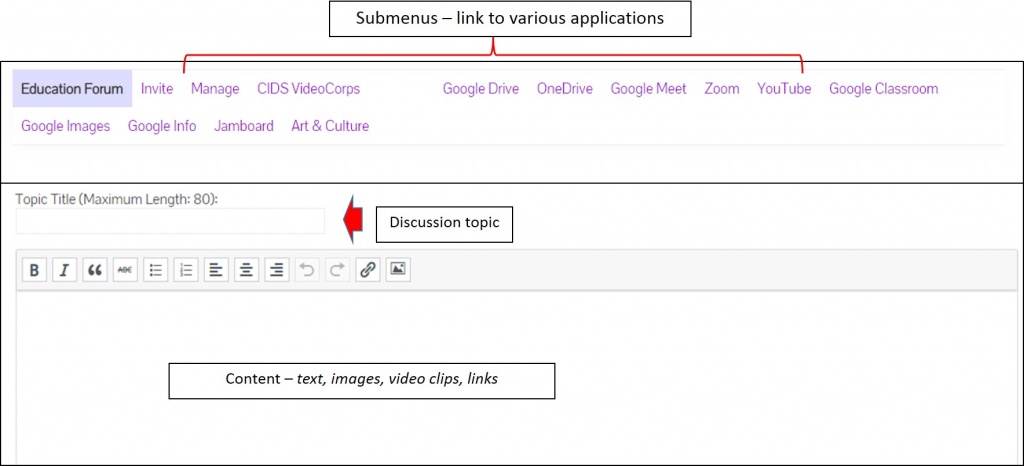 Example 1: video link
Press on the YouTube menu button
Find a Video Clip and copy the URL
Return to the E-Forum and Paste URL
Press Send/Post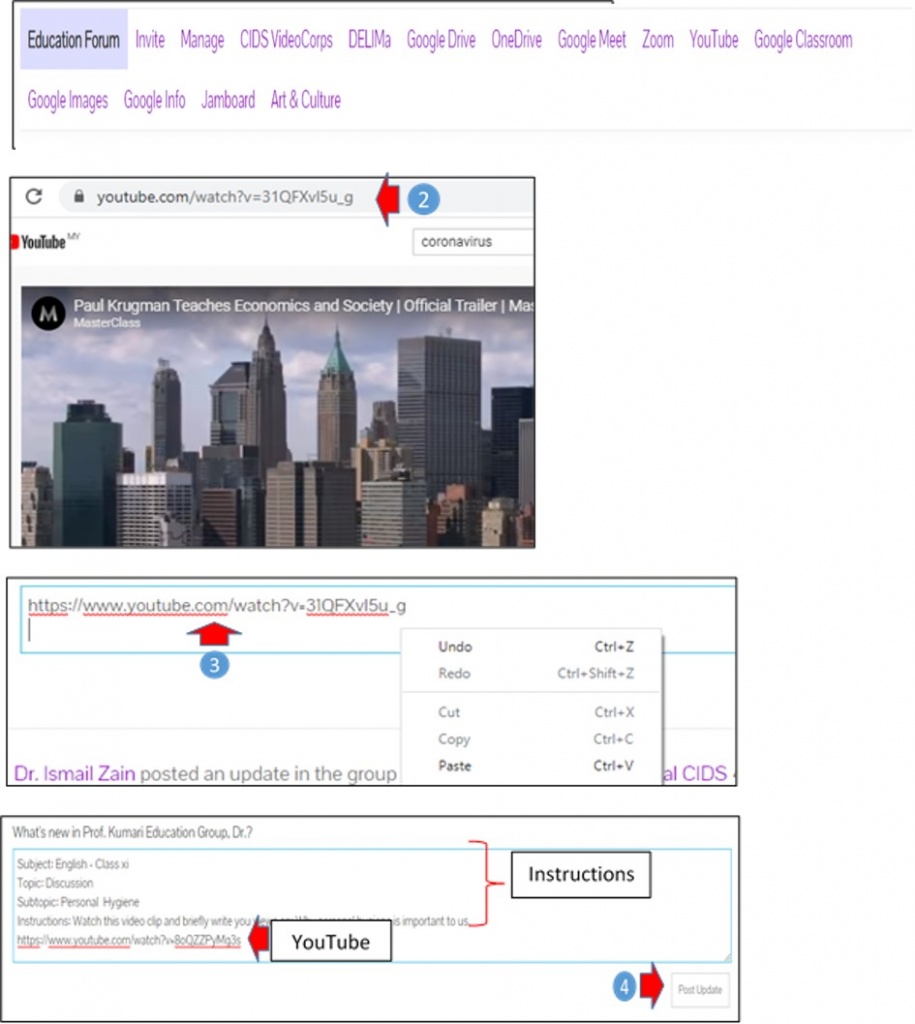 After press Post/Post Update – it will display as follows: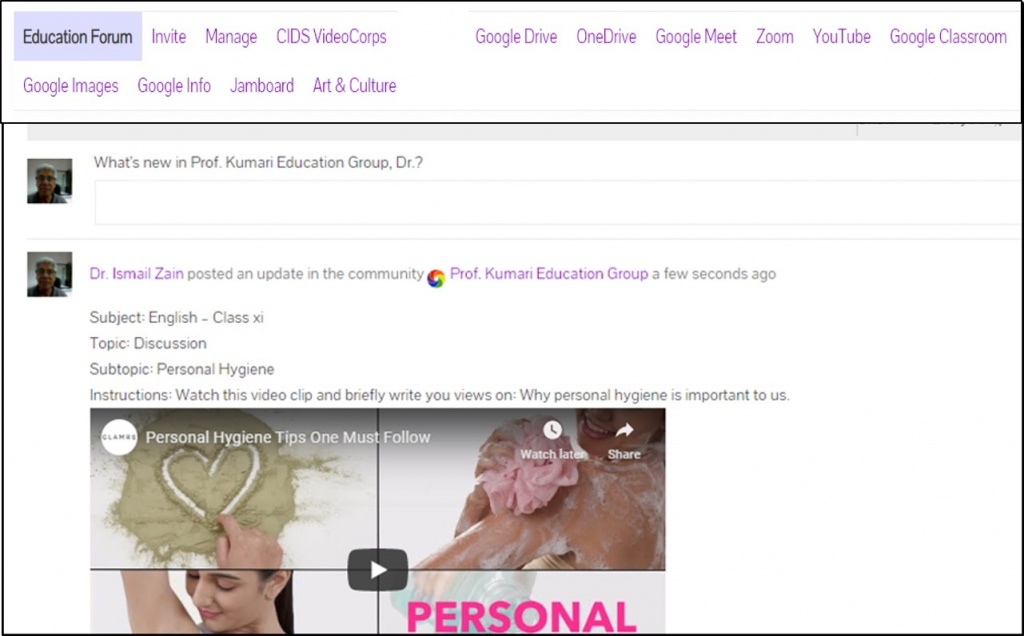 Example: From Google Classroom
Press on the relevant button (Example: Go to the Google Classroom page)
Search for materials (stored in Google Drive)
Copy file (make sure it has shared permissions for all)
Paste in e-forum space
Press Post
You may find materials for other links – Google image, Google Info, Google Meet, etc.
You may record audio – save it to Google drive or One Drive and then insert the link in the e-forum.
You may do a video recording – upload it to YouTube and then copy the link to the e-forum.
There is much more that can be done with your creativity to create strategies.
The PLC-CIDS Digital Learning features are constantly updated to improve the learning process.
There are also limitations (restrictions) on this application.
Chat Room
While you are in the e-Forum, the Chat room will appear at the bottom right-hand corner. Chat can be used as students' informal discussion before writing in the e-forum.
Press Public Chatroom to interact with everyone
Or Press the specific name in the Public Chatroom to interact privately.
You may send messages, attach files, and images