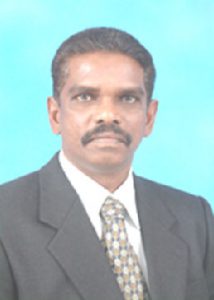 Balakrishnan Muniandy is  a Professor at the Centre for Instructional Technology and Multimedia, Universiti Sains Malaysia (USM), Penang, Malaysia. He obtained his PhD in Educational Technology from the University of Oregon, United States of America in 2000. To date he has served in various capacities in the field of education for 35 years.
He has taught in several Secondary Schools and Teacher Training Colleges. He has been an Assistant Director (Media and Production) at the Pahang State Educational Resource Centre where his job involved among others planning and conducting professional development programs for in-service teachers, and supervising Teacher Activity  and School Resource Centers.   While pursuing his PhD in Oregon, he was involved as a Graduate Teaching Fellow.
At present he teaches Instructional Design and Delivery, and Research Methods in Instructional Technology for post-graduate students. He supervises Malaysian and International graduate students pursuing Masters and Doctoral Degree in the area of Instructional technology. His research interests are in the areas of Instructional Technology Applications and ICT for Teacher Education. He has worked on the simSchool project in partnership with AACE, USA.
He has presented numerous papers at National and International Conferences related to Teacher Education and Educational Technology in Malaysia, Thailand, Indonesia, India, China, Taiwan, United States of America, and Austria. He has also published book chapters, research monographs, and academic articles in National and International Journals.
Professor Dr. Balakrishnan Muniandy is a co-founder of the ASIE project.