EVALUATION OF TECHERS COMPETENCY (ETC):

 User Manual
 EVALUATION OF TECHERS COMPETENCY (ETC)
Instructional planning needs to be evaluated. Feedbacks from respondents (evaluators, learners) are valuable information for teachers to review and revise the instructional planning developed in the respective component and aspect of the model. It is a reflection process for improvement and future redesigning opportunities.
CIDS provides evaluation items (with customized rubric) for self-evaluation or for administrators of all levels to evaluate and propose suggestions for improvements.
It is composed of 2 sections – evaluation on the instructional planning, evaluation on the classroom teaching practices.
All items including the scoring parts are customizable. The performance status of the teacher for each section and overall performance will be displayed automatically upon completing the evaluation process.
Evaluation procedures
1st Option:
Press Evaluation at the main menu
Press Search & Create ETC
A list of record name is displayed (subject to user tick/untick the option for notification of Ready to be observed)
Select and press on the word  ETC you want to evaluate (if there is more than one)
Follow instructions for further action.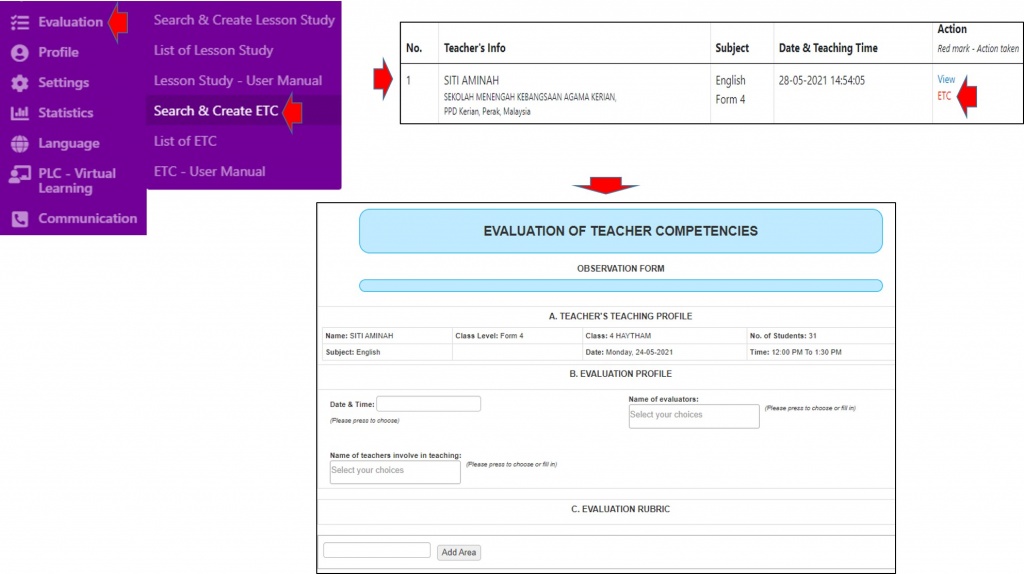 2nd Option:
Press Open Record at the main menu
Search/Select record
Open DLP
Press the ETC button at the end part of the page
Follow instructions for further action.